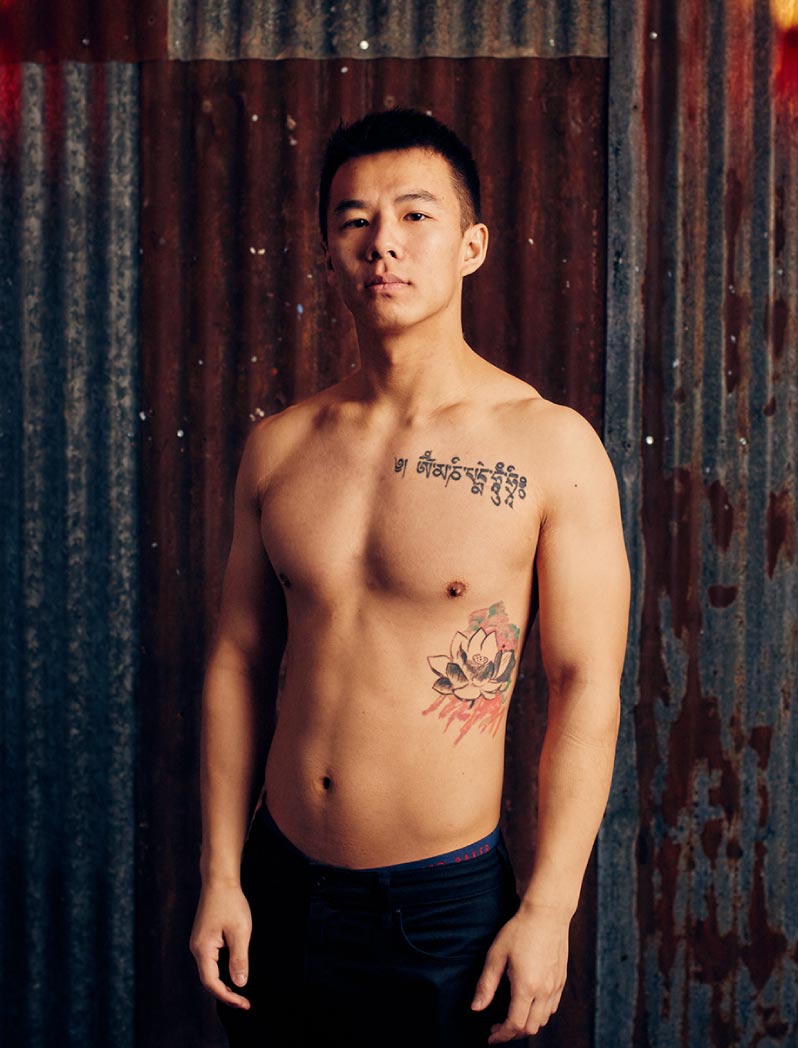 Yilin
Like most of my projects, Yilin's lotus began as a series of drawings in black pencil and watercolour. I was particularly inspired by David Hockney's floral studies, using intuitive, bold lines which contrast well with the watercolour background.
"If you are into watercolour style custom tattoos, then Max is definitely your guy.I found out about Max through a guy at a local crossfit gym, I saw a fox on his body and was immediately astonished by the design, composition and use of watercolour style strokes in his work.
When I met up with Max, he invited me to his studio for tea, and to talk about what I wanted for my design, really genuine and chilled guy; about two weeks later, he sent me a few designs. The lotus I got took around 4 hours and we managed to get it done in one day, really happy with the results, would certainly go back to get inked again."
VIEW TATTOO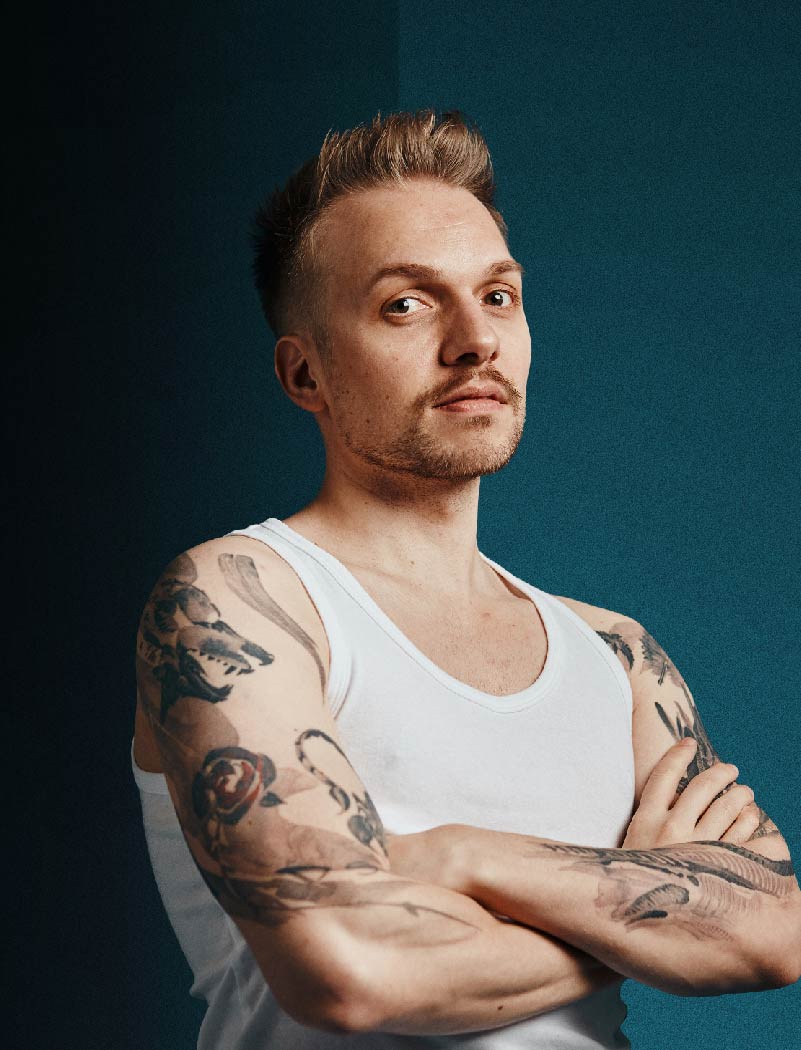 Marek
Although initially it was a slightly overwhelming, it soon became clear that Marek's sleeves would be an awesome design brief. They incorporate a number of varied elements, (fortunately I was pretty familiar with the movie/sci-fi references!) which I was able to unify with a distinct style. I think designing tattoos that respond to the area of body is really important, and the background strokes, along with careful placement of the different elements helped to create a sense of flow.
VIEW TATTOO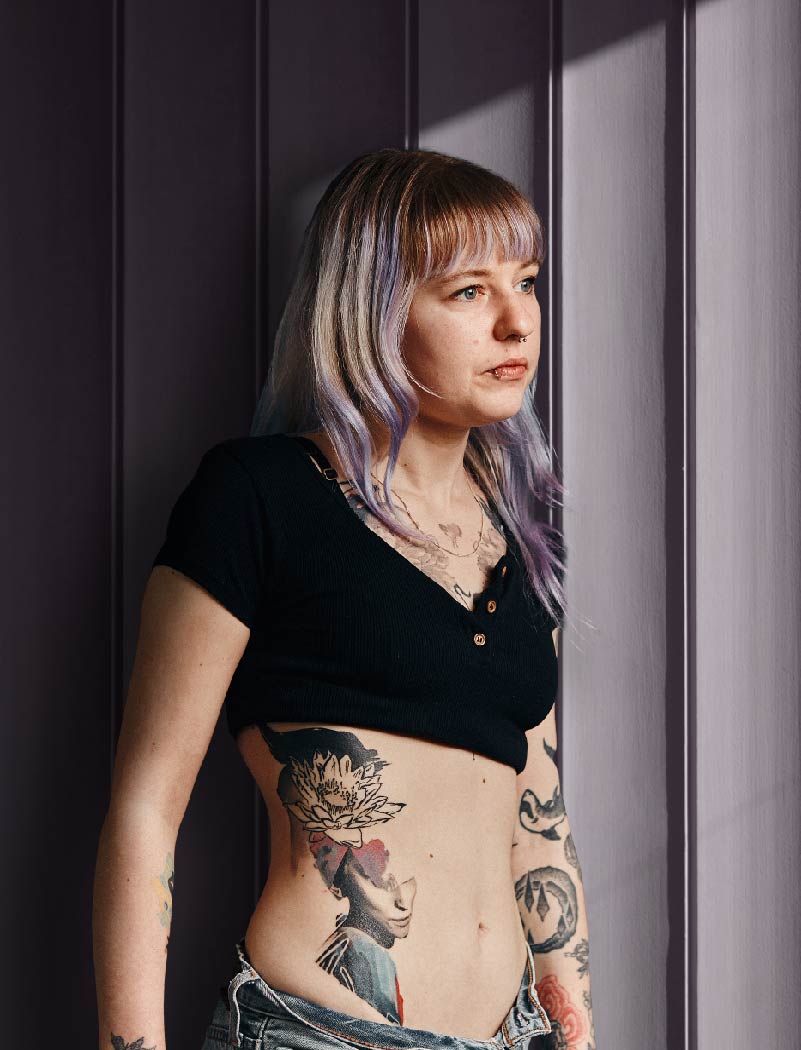 Kaira
I've had the pleasure of designing a number of tattoos for Kaira, with the last being the most ambitious. I'm keen to start incorporating areas of portraiture into my designs, so this brief was ideal; combining photo-real elements with a bold, contoured lotus and watercolour strokes. The darker areas of this piece were also positioned to cover-up old tattoos that Kaira was finished with!
VIEW TATTOO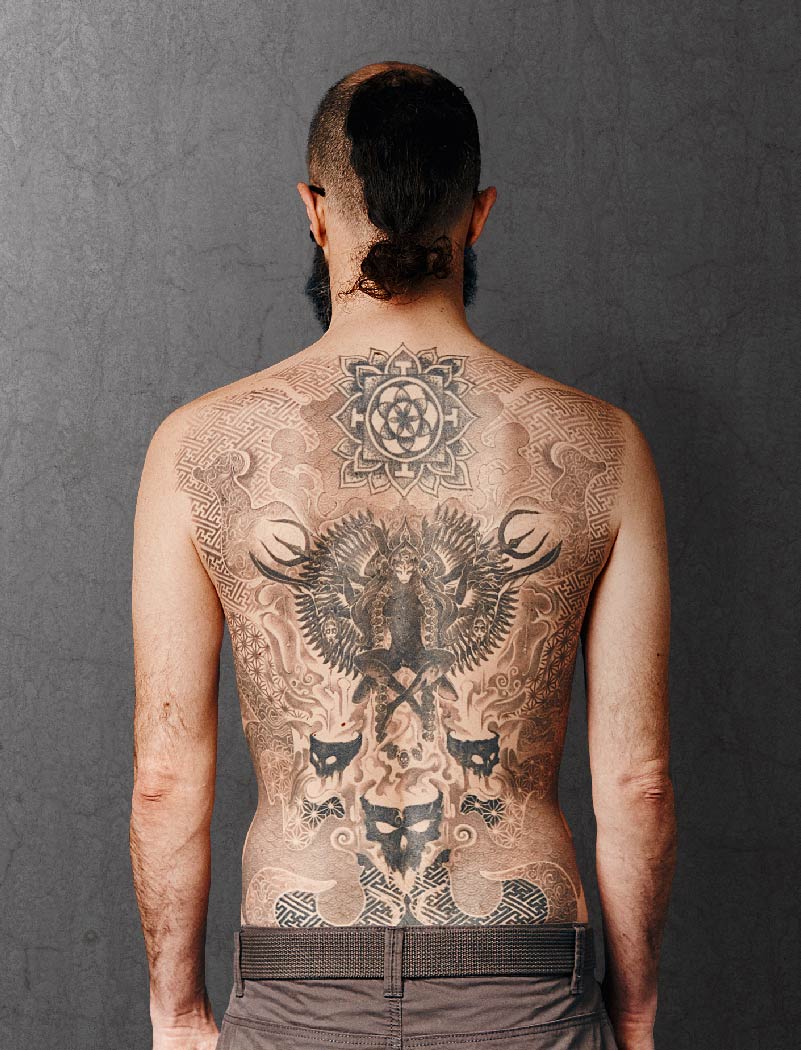 George
One of my most regular and long running clients, George's back-piece is actually progress on a full body tattoo. When he first approached me to discuss the brief (with pre-existing mandala between his shoulder blades), he made it clear it would need to evolve to cover 'every inch of skin'. Starting with the depiction of Kali, we have periodically added more sections to create a tapestry of intricate geometric patterns, slowly spreading onto his chest and arms… (much more to come)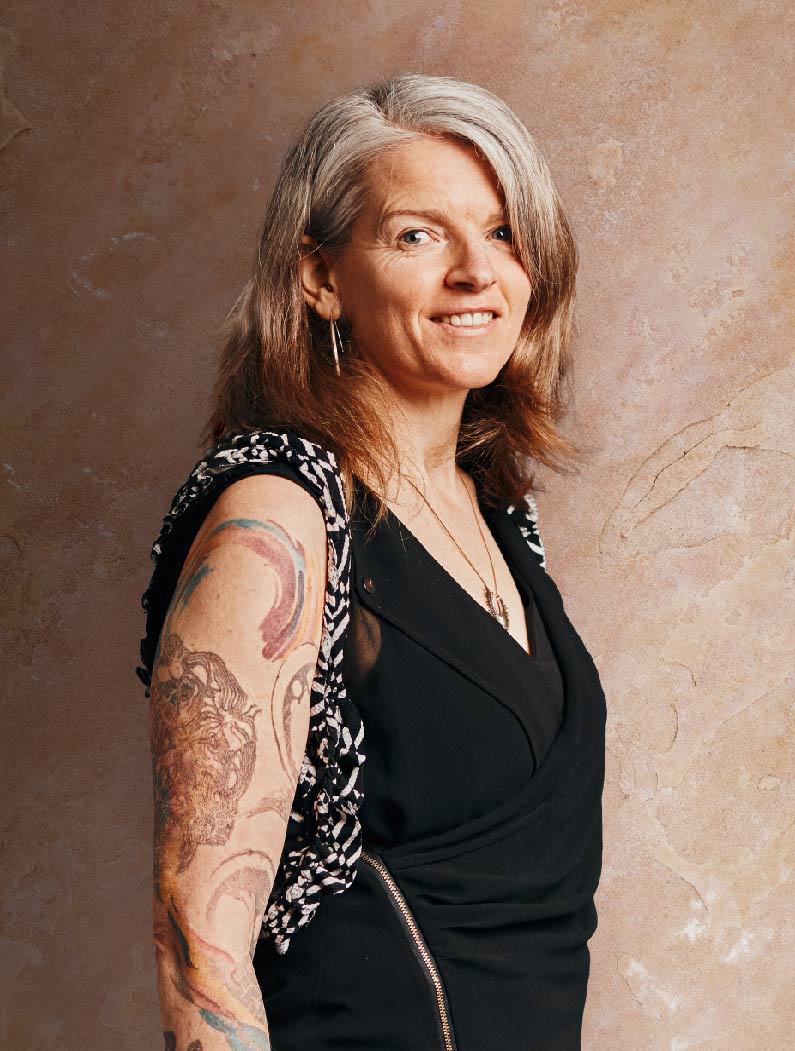 Amy
Amy's sleeve began with a cover-up of a small turtle that had faded with age. She wanted to honour it's memory by using patterns and shapes reminiscent of a turtle's shell in the new design. The process began with a selection of shapes created with marbling ink, which were then incorporated with geometric patterns and cymatic (sound wave) images to create a tattoo that has a continuous, looping flow. Most of the design was done with sepia ink to create a softer effect, and we choose a palette of rich, warm colours to complement Amy's style.
"I feel very honoured to have Dr Viper's incredibly unique and beautiful custom tattoos adorning my skin. Max manages to translate his incredible artistry to every creative task he pursues and it really shines through in his wonderful studio space as well. It is truly a home away from home; light, vibrant, calming and always inspiring. Spending many hours deep in conversation over copious pots of tea and listening to interesting podcasts and music makes me always eager to return for more. I can't wait for the next one!"
VIEW TATTOO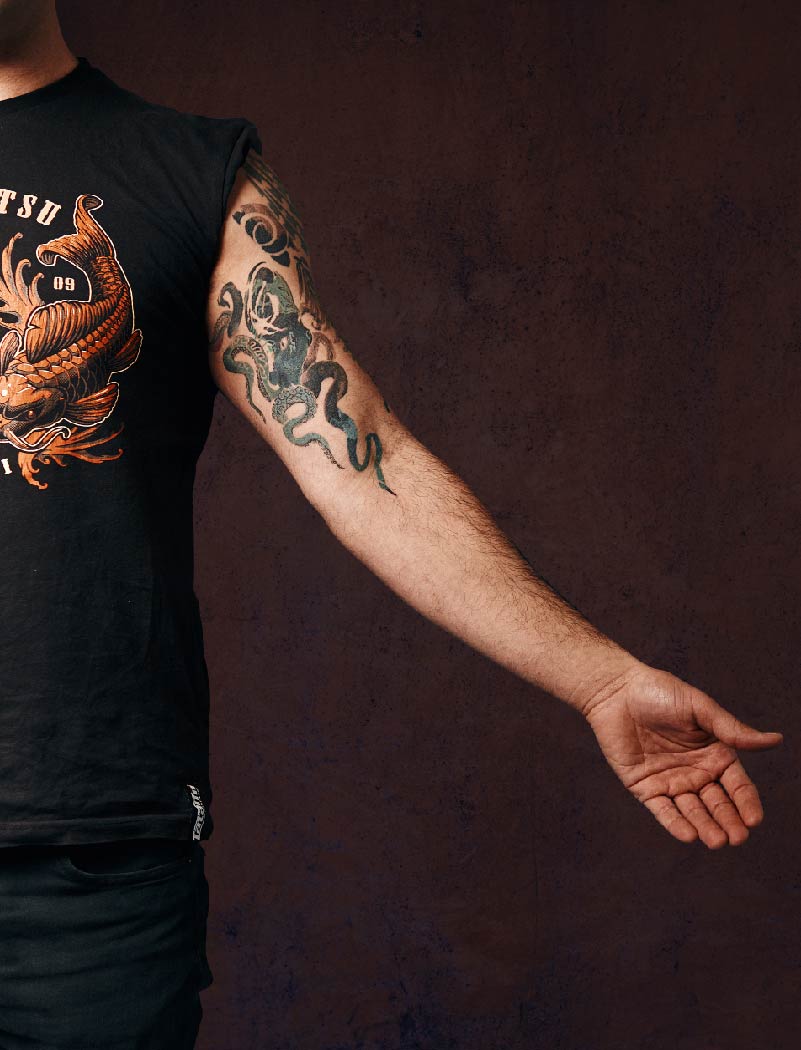 Lenny
Lenny's most recent tattoo adds to earlier pieces that honour both his Māori heritage, and the important role that Jiu-Jitsu plays in his philosophy and life. Along with the theme of the ocean, the brief included spirals and the symbolic image of the fern leaf. The octopus has been one of my favourite animals to create, and we even managed to work in the details of Lenny's son's name and a tentacle becoming a Jiu-Jitsu belt.
VIEW TATTOO
Tim
The starting point for Tim's tattoo was yin and yang, and it's interlocking symbol of positive and negative space. We extended this to include other elements of buddhist symbology; a mandala, and the full spectrum of colour found in the chakras. Like all of my work, the design process was collaborative, and in this case included valuable contributions from Tim's family too!
"Dr Viper is an amazing artist, who also happens to be a talented tattooist. I came across his work as part of a solo exhibition in a Sheffield gallery. The collection was mesmerising; beautiful, haunting visions using such a distinctive colour palette. When I found out he was a tattooist I immediately asked him to design and tattoo me. My first tattoo in over 23 years.
Max was such a pleasure to work with. He took a very loose brief and some pretty abstract ideas and through a series of design exchanges, turned them into my wonderful chest & back piece. It felt such a privilege to work together on the early concepts, then hand over to Dr Viper for him to work his magic. Seeing those first stunning concepts was so exciting. I felt completely cared for throughout the process, his studio is beautiful, the conversation fascinating and the inking was as painless as can be. The whole thing was a fantastic experience, a very moving ritual at times and I'd wholeheartedly recommend Dr Viper to anyone who wants an unusual, unique tattoo, from the mind and gun of a true original."
VIEW TATTOO